We do not consider the Kimono to be just one item of fashion; our education philosophy lies in getting the students acquainted with this culture in itself. As such, we introduce traditional culture in our classes and also conduct lectures on Japanese manners.
Easy and fun even for beginners. Students will learn the spirit of dressing up and dressing techniques.
Flexible start date. Please consult.

Kimonos and small articles can be rented free of charge. Kimono accessories such as under-kimonos and underwear, are complimentary, so there is also the benefit of being able to pack light for the course after work.


This is a course suitable for those who would like to take lessons using their own Kimonos. The content of the lesson is the same as that for the RakuRaku course.
* The curriculum for the RakuRaku course and the General course is the same.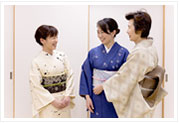 Complete beginners will learn how to wear the casual Kimono such as the Komon (fine pattern) and the pongee.

This is a lesson suitable as an entry for those who would like to be able to realize their longing to casually go out in a Kimono. Students will first enjoy getting familiar with and acquainted with the Kimono.
【Course content】
Practical skills: Learning to wear the underwear, woolen Kimono, pongee, komon, taiko tying, yukata, etc.
Lectures: The designing of Kimonos, underwear, and obis, as well as Kimono must-knows, etc.
Students can acquire qualification as a 3rd-grade Kimono instructor.


If you want to master different ways of tying an obi, acquire dressing skills to an extent, etc., here you will learn more practical and solid techniques. Not only will students learn to wear Kimonos, but they will also learn how to dress people beautifully in Kimonos.

The 7-month set plan that includes the Regular course is recommended for those who want to gain confidence in Kimono dressing.
【Course content】
Practical skills: Different ways of tying an obi, putting on a layered collar, Tomesode dressing, Furisode dressing, the two-layered taiko, dressing someone else, etc.
Lectures: Body shape and adjustment, Kimono design, dyeing and textiles, Kimono maintenance, Kimono manners, Kimono production areas, etc.
Students can acquire qualification as a 2nd-grade Kimono instructor.
Student voice

Ms.F
I've always wanted to dress in a kimono by myself just like how my family used to dress me up in a kimono when I was young. That is why I took this course. I enjoy it because I can feel like a Japanese woman--in a completely different way from the ordinary--when I wear a Kimono.
Ms.A
You can continue on with the course without difficulty because you can substitute classes. After learning the profundity of the Kimono, I started to look forward to class even more. And the fact that they rent out all the small articles and instruments makes packing for class light and convenient. I am also thankful that they review lessons because as you can imagine, you can forget how to wear/dress a Kimono if you haven't worn one in a while.

Ms.I
I started without knowing anything about wearing/dressing a Kimono. I was worried at first, but then I realized, 2 years has gone by. I learned things I didn't know, and it was fun to see how I was learning to wear/dress more types of Kimonos. The profundity of Kimonos keeps drawing me back.
Tuition
 
Admission fee
Course fee
Total (including tax)
RakuRaku
Regular course (3 months)
¥3,000
¥34,600
¥37,600
RakuRaku
Regular / Advanced course (7 months)
¥3,000
¥74,800
¥77,800
Courses offered in Kimono dressing
School hours

10:00~20:00(Saturday 10:00 to 18:00 )

Telephone

03-3561-1831